Online proctoring allows you to take exams at your convenience while insuring the integrity of exam results. The rules governing a specific exam's administration can vary between test publishers. This article takes you through the online proctoring experience.

Note: To ensure a smooth examination experience, you should consult the technical requirements before taking an online proctored exam. For example, if your exam requires Questionmark Secure, we recommend installing this advance so you can avoid additional steps before your exam starts. For more information, see What do I need in order to take an online proctored exam?
The candidate journey
Authorization
First, you will need to be authorized by the test publisher. This typically happens when you purchase access to an exam through an e-commerce transaction. In some cases, the test publisher will provide you with an exam voucher that can be redeemed in lieu of a credit card purchase.
Scheduling an exam appointment
Note: Set your local time zone in the Questionmark portal before scheduling an exam. For instructions, see How can I set my time zone in the Questionmark portal?

Once you are authorized to take an exam, you'll need to schedule your proctoring appointment. You can select a date and time of day which is convenient for you. It's important that you set your local time zone in the Questionmark portal before scheduling an appointment. Your appointment date-time will be set according to the time zone you've set in your account in the Questionmark portal. Upon saving your appointment, you'll receive an email confirming the appointment that includes further instructions.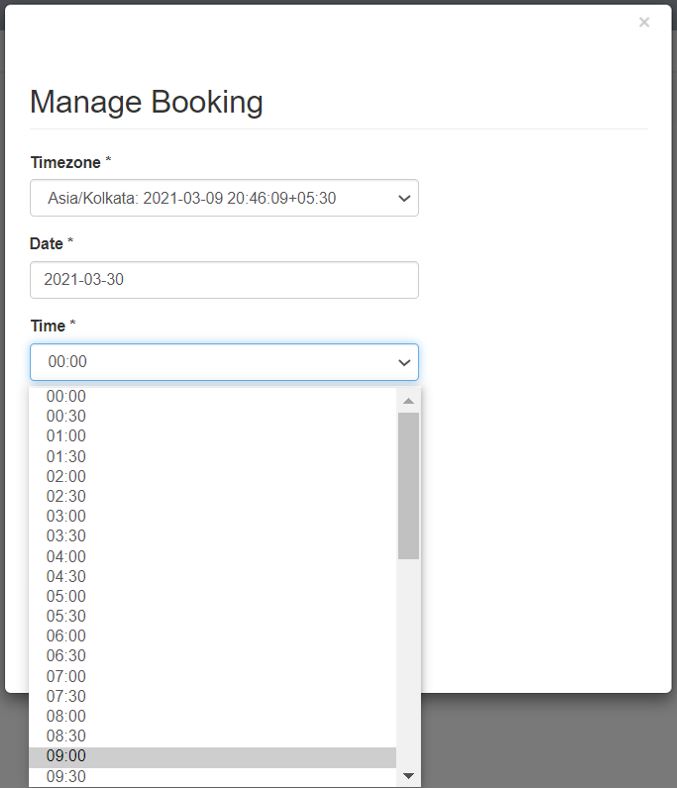 Starting an exam appointment
Note: A launch link will be enabled in My Assessments 15 minutes before your appointment.
To start an exam appointment:
At the time of your appointment, log in to your test publisher's Questionmark portal.
Click My Assessments. Options available for an exam depend on status of the authorization and exam appointment. A launch link will be enabled on this page 15 minutes before your appointment.

Click Launch to initiate your exam appointment. The proctoring system will launch in a new window.
Connecting with the proctor
Follow the on-screen prompts to connect with the proctor. Online proctoring uses Zoom for real-time communication. Zoom is a web-conferencing application, and you'll be prompted to install or run it in the process of connecting with the proctor. You don't have to install it ahead of time. The proctor initiates a web conference using Zoom and begins the authentication procedure at this point.

Authentication and test environment inspection
Now you'll need to provide the identification documents required by your test publisher. The proctor will also expect you to use your webcam so they can inspect the security of your test-taking environment and can ensure the security and integrity of the exam.
The proctor enables the Next button only after verifying your ID and environment. Click Next to proceed to the candidate agreements.

Consenting to candidate agreements
Next, you will be presented with candidate agreements. You're required to consent to all the agreements, terms, and conditions of the exam as configured by your test publisher. After accepting all of the terms and conditions, click Next to proceed.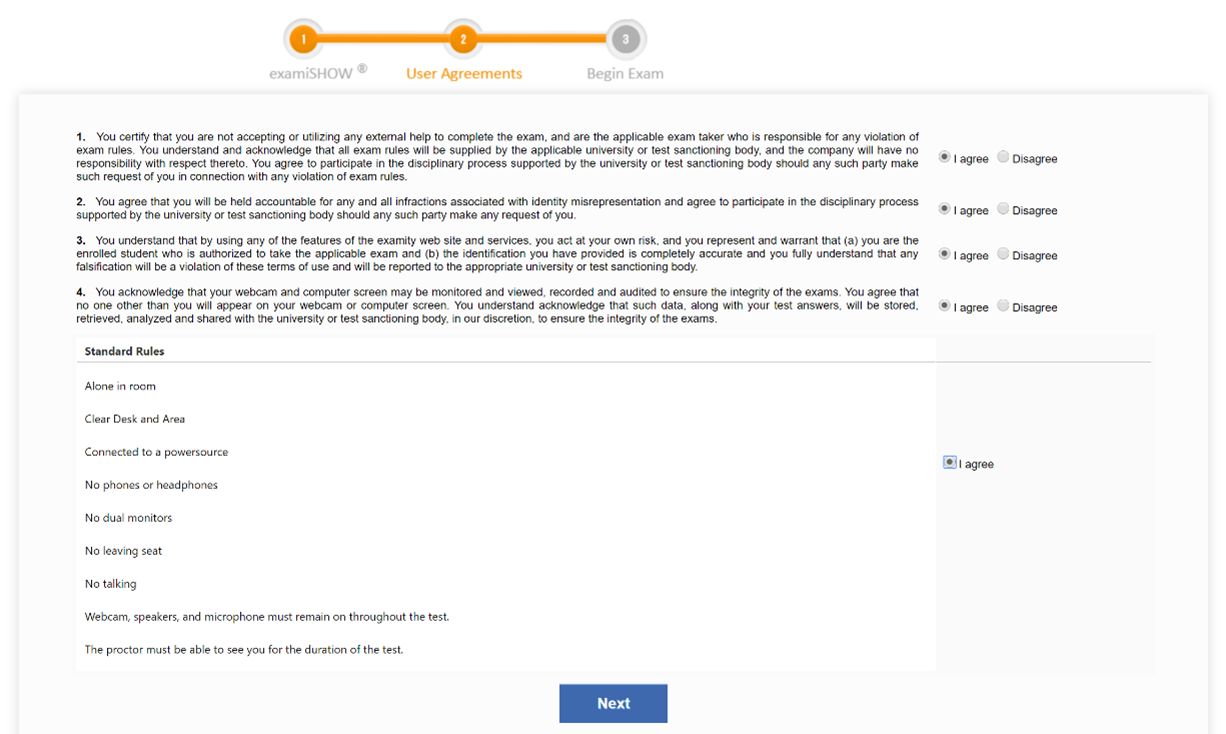 Beginning an exam
After consenting to the candidate agreements, the proctor will enable the launch link. Click Begin exam to start your exam.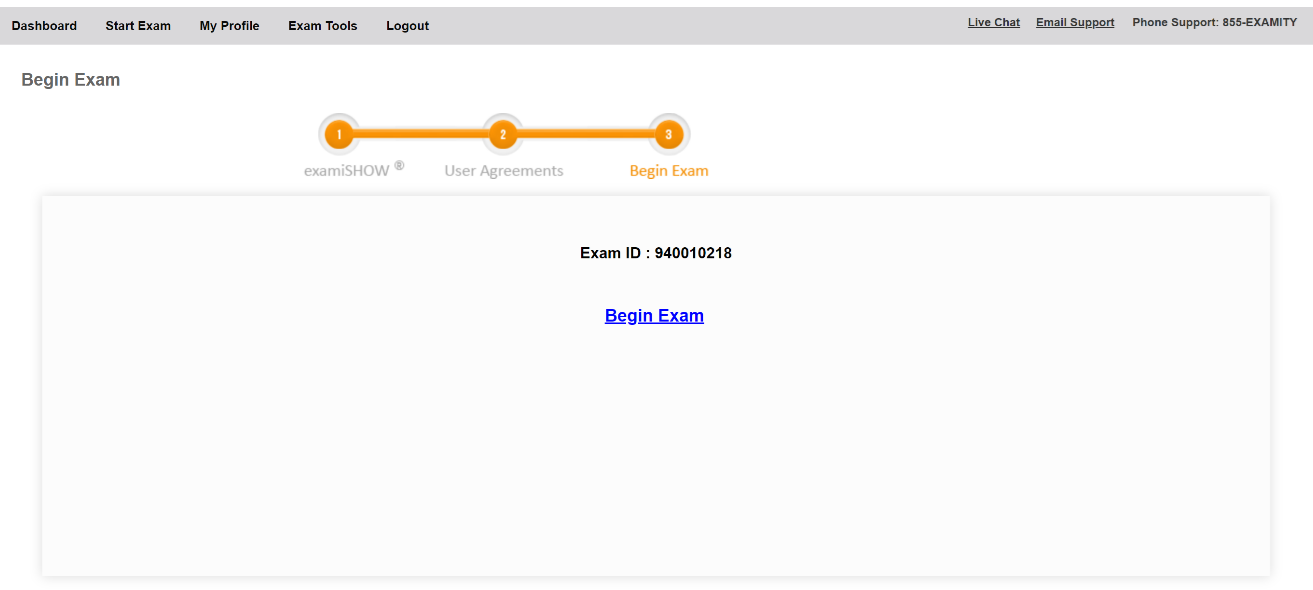 The exam lobby
After clicking Begin exam, the exam lobby opens in new window. Depending on how your browser is configured, you may need to confirm that it can open Questionmark Secure.
Downloading and installing Questionmark Secure
Note:

Questionmark Secure may not be required for your exam, in which case, you can skip this section.
Questionmark Secure will automatically start if installed. If it's not installed, click Download for Windows or Other platforms to download the appropriate version of Questionmark Secure for your operating system. If you have a previous version of Questionmark Secure installed, we recommend uninstalling the older version before installing the required version.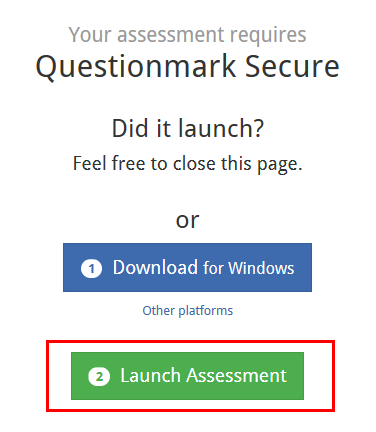 Closing prohibited applications
Once Questionmark Secure is installed, click Launch. This opens a webpage that requires Questionmark Secure, and if installed, displays the version. You might need to close prohibited applications before being able to launch your exam. Common prohibited applications include Outlook, Skype for Business (Lync), Microsoft Teams, GoToMeeting, and SnagIT. Close any prohibited applications, if any, and click Launch again.
Starting the exam
If your exam requires Questionmark Secure, then Questionmark Secure runs in fullscreen mode. If your exam doesn't require Questionmark Secure, you exam opens in a new browser window, and you may wish to maximize that window. Your exam is still locked at this point. The Start Exam button will remain disabled until the proctor unlocks the exam using the proctoring controls. After the proctor unlocks your exam, the Start Exam button is enabled. Click it to start your exam.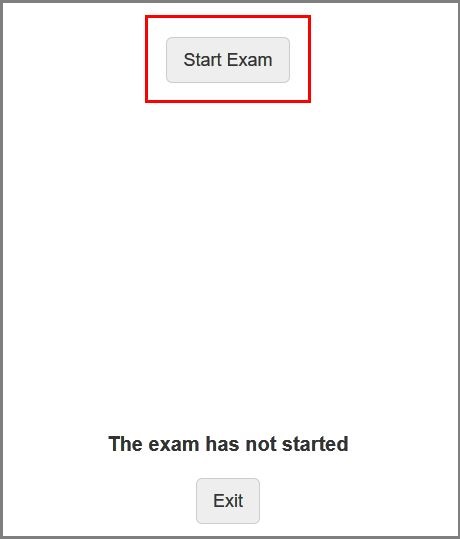 The proctor monitors you through real-time audio/video as you take the exam. The proctor can pause or terminate your exam if you're not following the rules. Once Questionmark Secure is running, the web conferencing client will no longer be in view. However, you may still speak in real-time with the proctor. The proctor is also still able to view your video feed.
Helpful links